MISSION:
The mission of the Cass Tech Class of 1985 Foundation is to provide grants to Cass Technical High School in support of the school's participation in academic or performing arts performances or competition.
It will do this through the following activities: Alumni Outreach and Grant programs.

The Cass Tech Class of 1985 Foundation
was created by several members of the Class of 1985 of Cass Technical High School who desire to provide alumni outreach programming and financial support to the high school. Cass Technical High School is one of Detroit, Michigan's premier public high schools. Due to budget cutbacks within the public school systems, increased class sizes, and other factors affecting the quality of public school education, opportunities for students to participate in non-sports related team oriented competitions or performances have been curtailed or eliminated in their entirety. Furthermore, additional efforts are needed to ensure the students are adequately prepared for the transition to college, trade school, or gainful employment.
The CT 1985 Reunion Fundraiser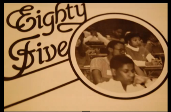 Planning for the 30 year reunion fundraiser weekend is complete.
The signature evening event early bird ticket price is only $100 per person. We strongly suggest purchasing your ticket(s) as soon as possible.
You must register to purchase ticket(s).
Register For The Fundraiser Here
If you wish to pay by check, please email ct85register@gmail.com.
We can not take any registrations after July 12th.
Cass Tech 1985 Foundation
Our donations are supporting three main areas of focus for the High School:

1. An at-risk male program that provide support to approximately 500 students with a GPA less than 2.0 and who are in danger of an involuntary separation from Cass Tech.

2. An all-female self-esteem program facilitated by the Cass Tech Principal, Lisa Phillips. This program is designed to bolster the student's self-confidence.

3. A Robotics program that supports the STEM (Science, Technology, Engineering and Mathematics) initiatives.
We welcome everyone to learn more about the foundation and its supportive programs on our Alumni Outreach & Grant Programs pages.
Cass Tech 1985 Alumni News
WE HAVE CLASS OF 1985 30 YEAR REUNION T-SHIRTS

As part of the purpose and mission for the Cass Tech Class of 1985 Foundation, we are seeking to raise funds to support. You can learn more about the campaign here.

The official online shirt order portal is no longer active. There will be a limit supply available the reunion weekend.
LOOKING TO DO SOMETHING WHILE YOUR IN THE "D"...
Spend some time in Detroit and see the changes that has occurred.
Click here for more things to do while your "HOME".
FOLLOW CT 85 AT: